Generate Grocery Store Receipts with Customizable Templates
Grocery shopping is a daily affair for many. At the end of the process, the customer is handed a bill. This way, they can double-check whether they are overcharged or not. Grocery shopping receipts have to be given in an instant. Customers should not be left waiting after reaching the cash counter. Using Receiptmakerly's quick bill-generating platform, you can provide customers with ready receipts all day long.
Grocery Receipts
Grocery receipts should make it easy for customers to read about the purchase. The font has to be big enough, and the bill should account for all the products sold. The units must be counted in pounds or kilograms for vegetables and fruits. Whereas items such as cereal, they must be counted per unit. You can quickly generate the receipt however you want, using the Receiptmakerly tool. Additionally, the platform allows you to store the receipt for later use.
Bill Format For Grocery Store Receipts
Bills used for Internet and Phone receipts have to include all the basics such as invoice number, the address for delivery, the customer details, the company logo, and details about the product. Besides this, different companies have more information they put into their bills. For example, Amazon might add a warranty detail based on the product ordered. Airtel might include the duration of a prepaid recharge. Generating a taxi receipt with Receiptmakerly might require different information than generating Lyft receipts. Take a look at some samples below.
Grocery Receipt Templates:
Walmart Style Receipt: Base your design off the shopping giant, Walmart. The bill includes a logo on the top and an easy to read font that allows customers to understand their bills quickly. Click here for more information on the Walmart style receipt.
Big Bazaar Style Receipt: If your products include everyday groceries, you might want to try the Big Bazaar styled receipt. The bill shows tax and a detailed description of every item sold.
Grocery Sample Receipts: Here are some more receipts you can choose from for your billing requirements. You can easily create receipts using the Receiptmakerly tool. You can change your logo and personalize the receipts as you like.
How to Grocery Receipt Using Receiptmakerly
Making Receipts for Grocery has never been easier. Once you login to the Receiptmakerly platform, here's what you need to do:
Step 1: Select the Grocery receipt style category from the dropdown and hit the search button.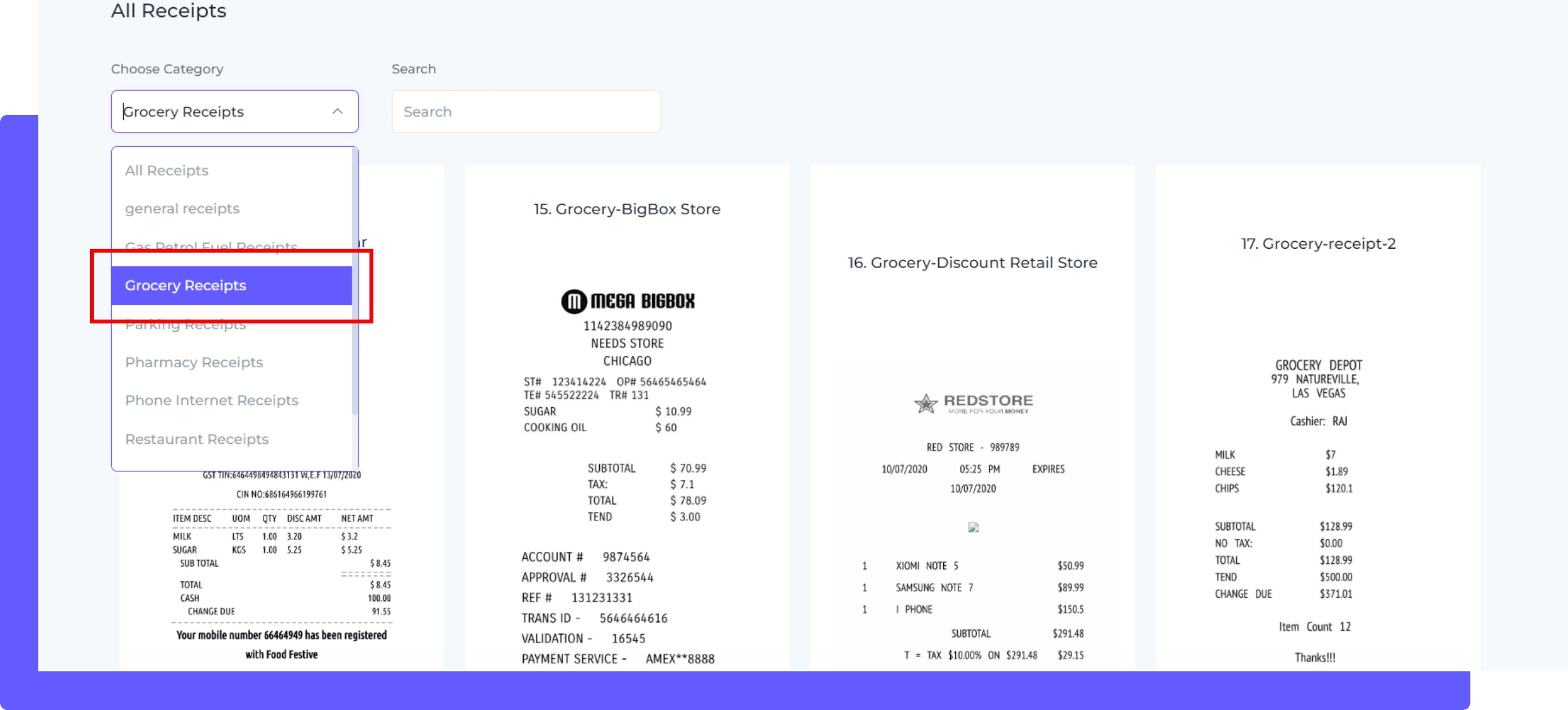 Step 2: Once you find the template you are looking for, hit generate below the desired model. We will be using the Wallmart Receipt as an example here.
Step 3: Enter the details of your receipt and hit generate at the bottom. Your invoice will appear on the right side, and you can instantly download it for use.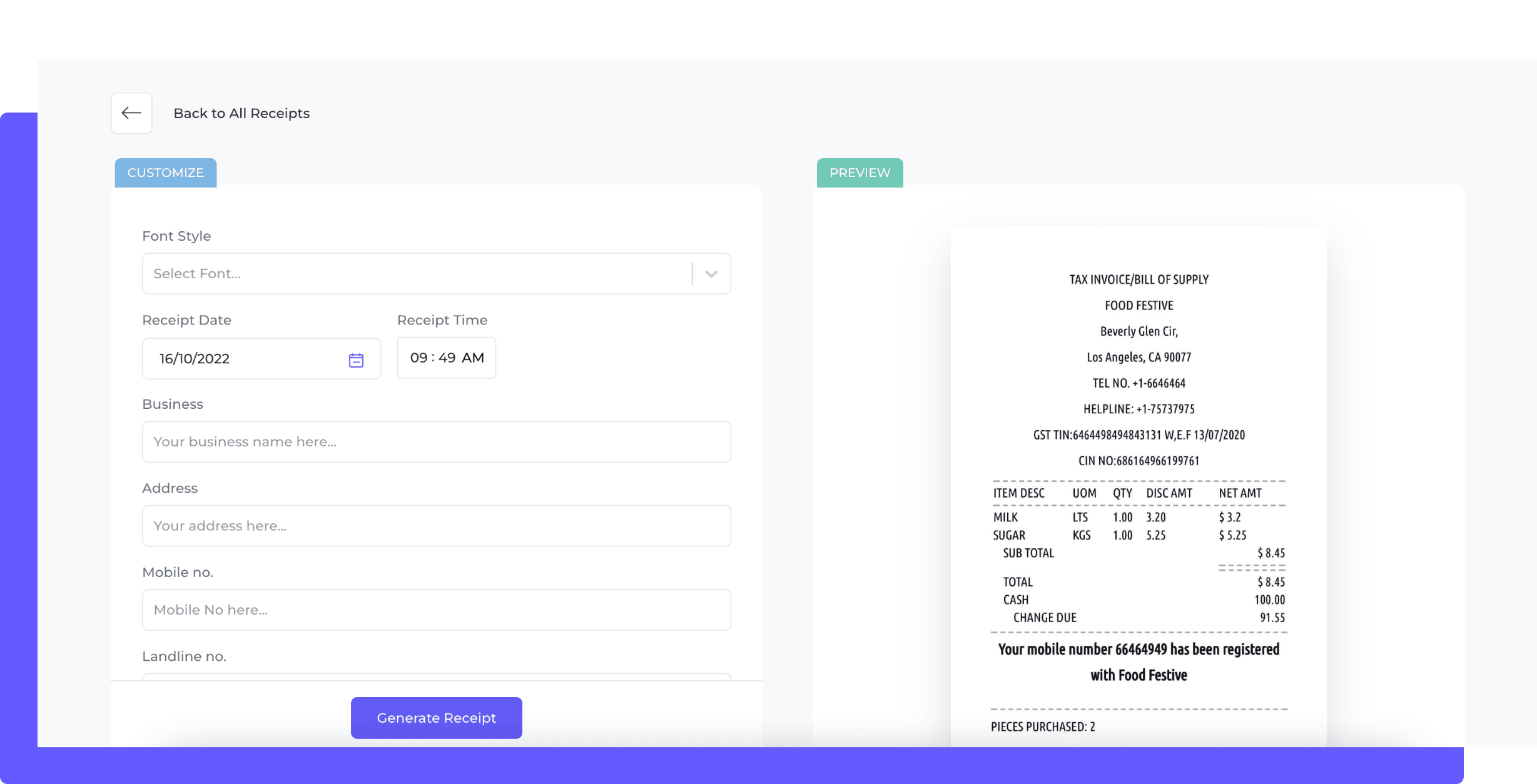 Get Started
About Receiptmakerly
Receiptmakerly- the ultimate grocery receipt maker aims to make your invoicing process 100% easier, quicker, and more convenient. Using the platform, you can produce a top-quality invoice for any purchase made at your store. But the online tool is not just for shopping; it can be used for a variety of businesses. You can create receipts for Taxi services and use templates such as OLA Style Taxi Receipts, Uber Style Taxi Receipts, hotel receipt and more!
Moreover, you can store all your bills on our platform. Check out the home page to learn more about Receiptmakerly, or try our one-week subscription. If at any point you are unhappy with our services, contact us for immediate assistance. We will also refund your payment if there is a problem beyond our reach or if you are still unhappy.