Generate Parking Receipts with Customizable Templates
Hotels, malls, resorts, restaurants, and other public areas offer parking spaces to their customers. You might have tried to generate hotel or restaurant receipts, but did you wonder how to generate one for parking space? With the increasing demand for parking space, establishments are practicing a way to generate more income. Hence, they offer paid parking spaces to their clients.
At Receiptmakerly, we offer the best and most professionally tailored templates, which businesses can use to create highly professional and well-structured parking receipts. Unlike other online bill generators, we offer this service at competitive prices to ensure our customers can gain the best parking receipts within their budget. Whether you are a new business or an established entity, using Receiptmakerly can help you quickly get the best parking receipt.
Create High-Quality and Professional Parking Receipts Containing a Vehicle's Important Details
Receiptmakerly is the best parking receipt generator for creating high-quality parking receipts. Whether you use a parking machine or a parking attendant, they have to offer a parking ticket to the customer that includes essential details about their vehicle.
What happens if such details are not mentioned in the receipt?
You don't want this to happen as it can lose our important vehicle's details, which are helpful in case of any emergency or mishap. Hence, use Receiptmakerly to store a proper format that lets you easily store the crucial details of a vehicle when a customer enters the parking lot.
You can include these vital details in your parking receipt, from the vehicle's plate number to the time and date of entry. This way, you can quickly identify a vehicle with the help of a parking receipt and stamp the same when a customer exits or pay for the parking space. This is similar to store receipts, stamped once the customer claims he has paid for the purchased items.
Moreover, you can include important rules and regulations in your parking receipt. For example, whether you offer free parking or charge on an hourly basis, you can mention everything in the parking receipt. This will guide the clients on what they must and must not do.
When vital rules and details are mentioned in the parking receipt, it is possible to avoid untoward incidents.
How to Generate Parking Receipts with Customizable Templates Using Receiptmakerly
Making Parking receipts is as easy as you like! After logging in to the Receiptmakerly platform, here's what you need to do:
Step 1: To start, find the Parking Receipt from the Drop-down.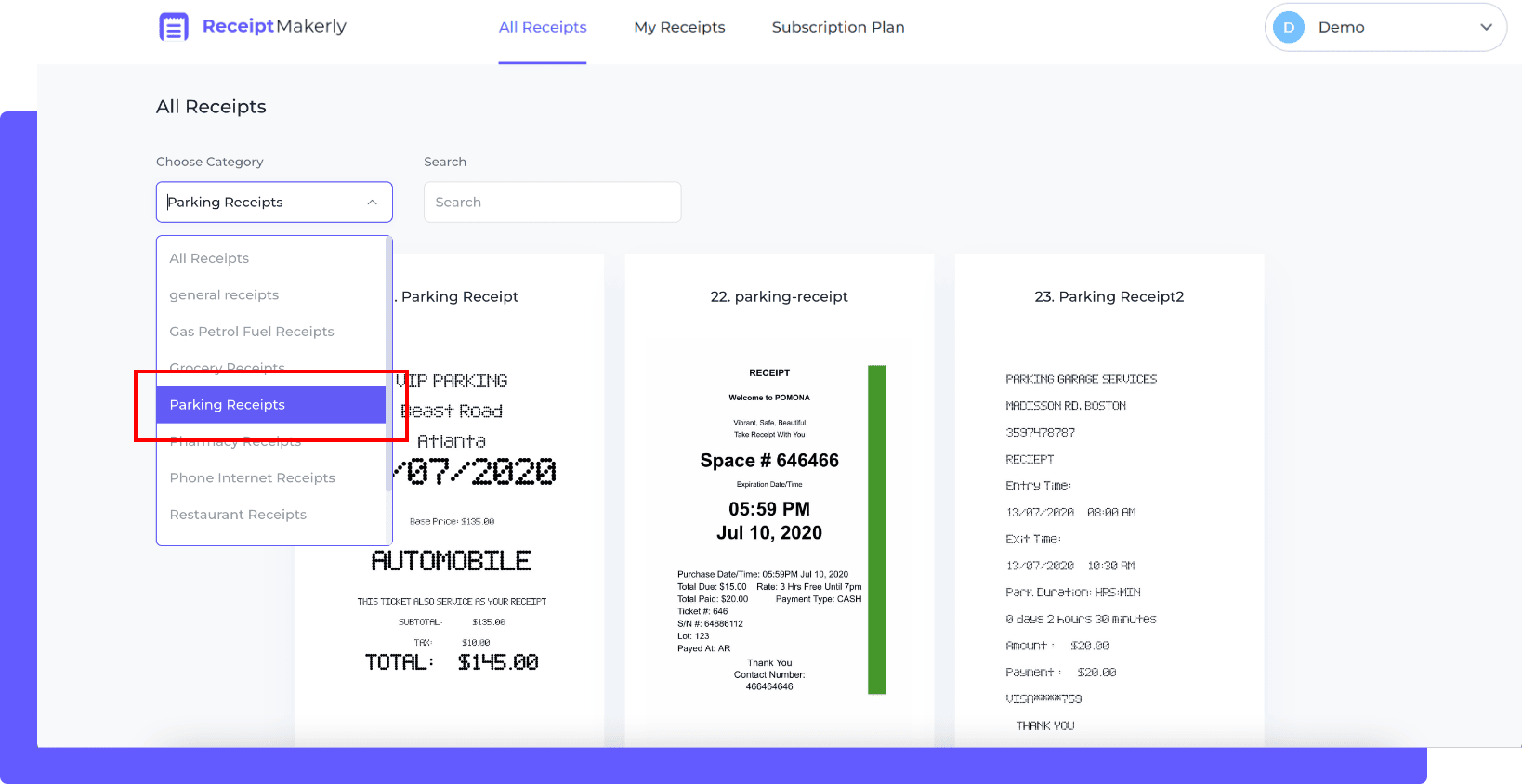 Step 2: Select one of the Parking Receipts templates available.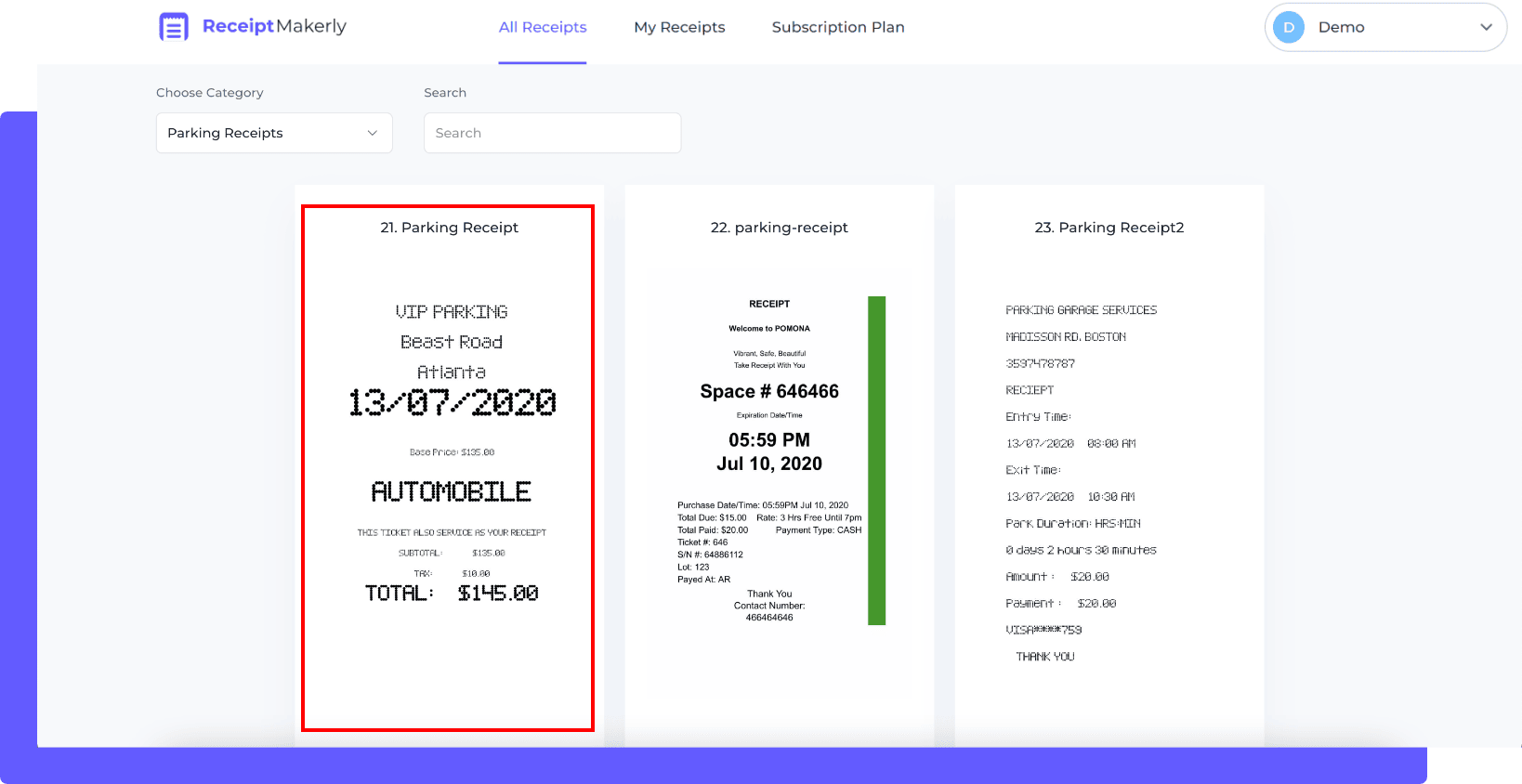 Step 3: Now customize your desired parking receipt template with the required information and click on "Generate Receipt"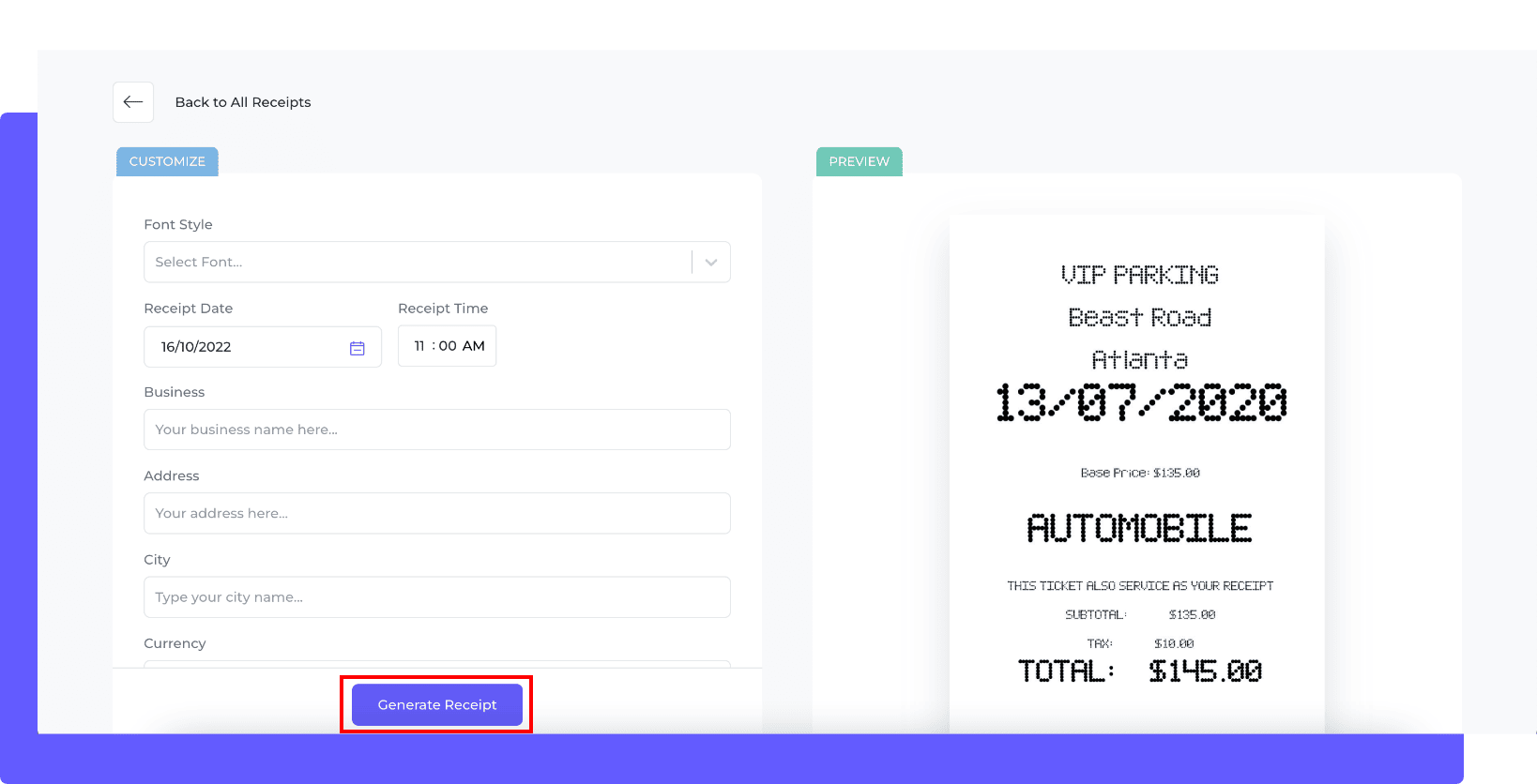 Step 4: Your receipt is now ready. Click on the "Download" button to get your parking receipt.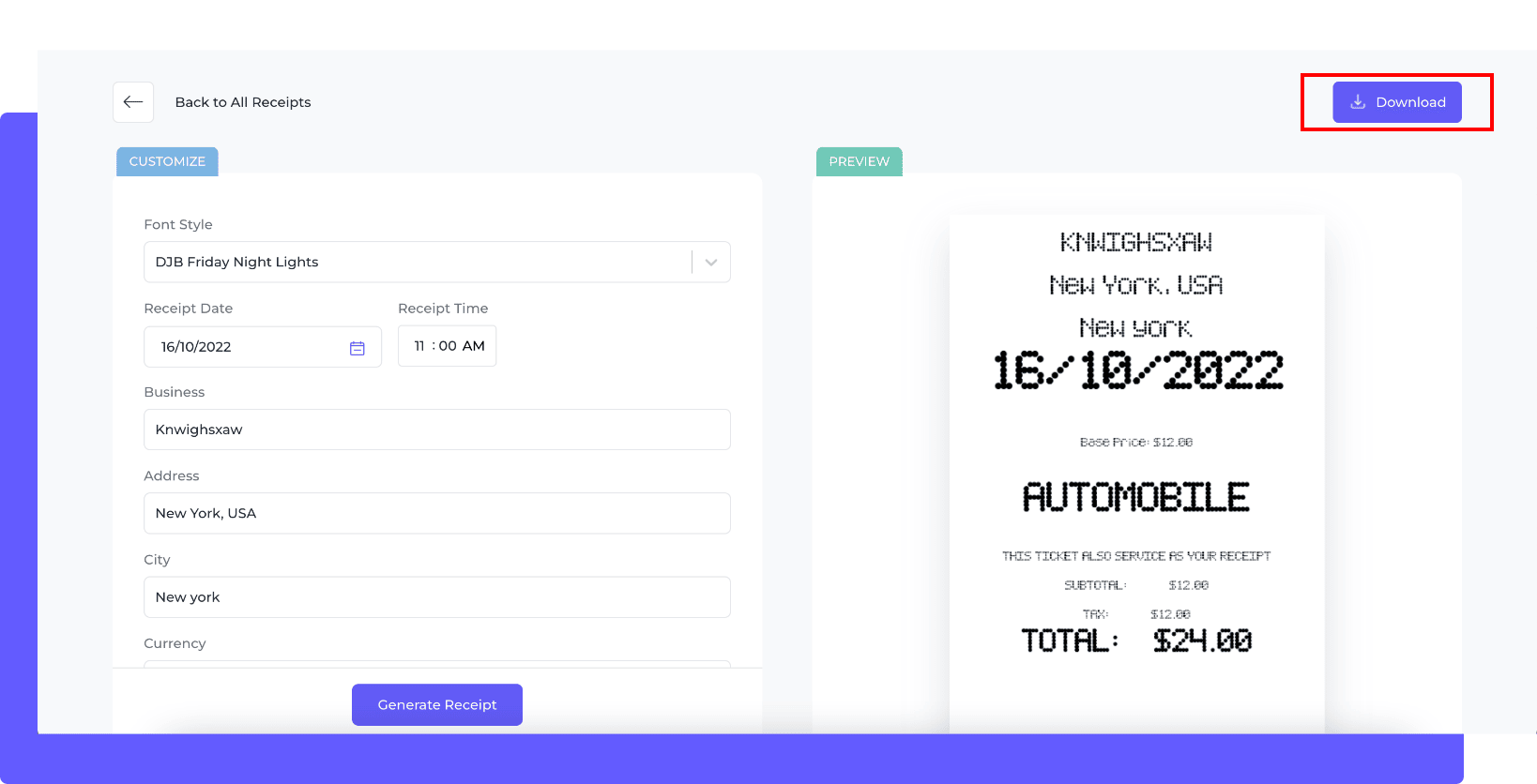 Benefits of Creating a Professional Parking Receipt Using Receiptmakerly parking receipts template
At Receiptmakerly, we believe that the purpose of a receipt is that it must serve the end-user. Therefore, parking receipts generated using our tool are helpful not only for entering the important details of a vehicle. They offer more other benefits.
Use a professional parking receipt created using Receiptmakerly to build a strong reputation among customers. This way, customers can know that they are parking their car or vehicle in safe premises.
Use the parking receipt as proof that payment has been made by the customer.
The parking receipt is also useful to know about the length of time a vehicle has parked in the area. If anything fishy is noticed, the same can be attended easily.
Mention the important parking regulations and guidelines to keep customers guided on particular conditions and limitations of a specific establishment. Since the parking rules may vary for each establishment, so mentioning the same in parking receipt is highly useful.
Use the stored information in legal procedures, if in case, there is evidence of something happened related to crime.
Keep a well-organized track record of all vehicles.
The parking receipt serves as proof that the customer agrees to pay the desired amount.
Parking receipts are useful during inventory and can be used to check the amount of income generated with this service.
The parking receipt serves as proof that the vehicle owner is legally bound to exit the premises after paying the necessary sum.
Create the Best Parking Receipts Using Amazing Receipt Templates Only at Receiptmakerly
At Receiptmakerly which is a trusted parking receipt generator, we offer a vast collection of templates to let you create a professional parking receipt easily. The process of creating receipts is simple and easy. From generating Lyft receipts to even Amazon-style receipts , you can create a variety of receipts on this platform.
Use our tool to create the best parking receipts with the help of various parking receipts templates and give your parking service a professional outlook.