How to Generate Phone and Internet Receipts
Generating phone and internet receipt is now easy with Receiptmakerly. Learn the easy process of generating phone and internet receipts with customizable templates.
4.9 | Made with ♥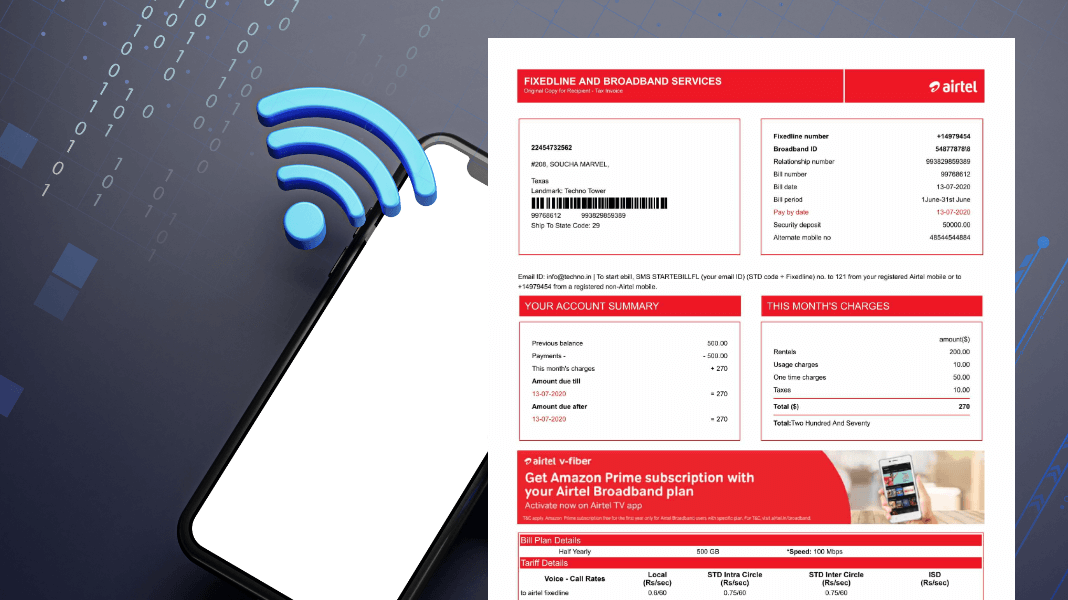 Internet shopping is becoming the most convenient form of shopping with the advent of mobile applications. People choose to use apps on their phones to recharge their balance and find products for daily use online. What companies such as Airtel and Amazon have in common is the instant invoice sent to your Email ID right after purchase. It's convenient, fast, and reliable, and now, using Receiptmakerly, you, too, can give your customers instant bills.
This article will discuss everything related to Phone receipt templates, internet bill receipts, and more!
Phone and Internet Receipts
Airtel is a broadband internet service and mobile hosting company. Amazon is a world leader in online shopping. So why did we put both in the same category? It's simple. Receipts generated by purchases are instantly sent to a customer. It creates a sense of instant gratification for the customer, who knows all details of his purchase by looking at the receipt.
Bill Format For Phone And Internet Receipts
Bills used for Internet and Phone receipts have to include all the basics such as invoice number, the address for delivery, the customer details, the company logo, and details about the product. Besides this, different companies have more information to put into their bills. For example, Amazon might add a warranty detail based on the product ordered. Airtel might include the duration of a prepaid recharge. Take a look at some samples below.
Phone and Internet Receipt Templates:
Amazon Style Phone Internet Receipt: As the biggest shopping platform online, Amazon is a brand trusted worldwide. The detailed information on their invoices is everything a customer needs to know, including the warranty, product details, and more. Click here to know more about how to Generate Amazon Style Phone Internet Receipts.
Airtel Style Receipts: Airtel Receipts allow you to enter the amount paid, the duration of the service, and the details of the service. You can add the cost of calls, and your company logo in place of Airtel.
Jio Reliance Style Receipts: Jio is one of the biggest names in the internet industry. The instant service and amazing offers make them a brand people trust. You, too, can add offers and other details to your invoice by using the Jio Sample on Receiptmakerly.
How to Generate Phone Receipts and Internet Bill Receipts Using Receiptmakerly
Making Receipts for Phone and Internet services has never been easier. Once you login to the Receiptmakerly platform, here's what you need to do:
Step 1: To start, select the receipt style you are looking for from the dropdown.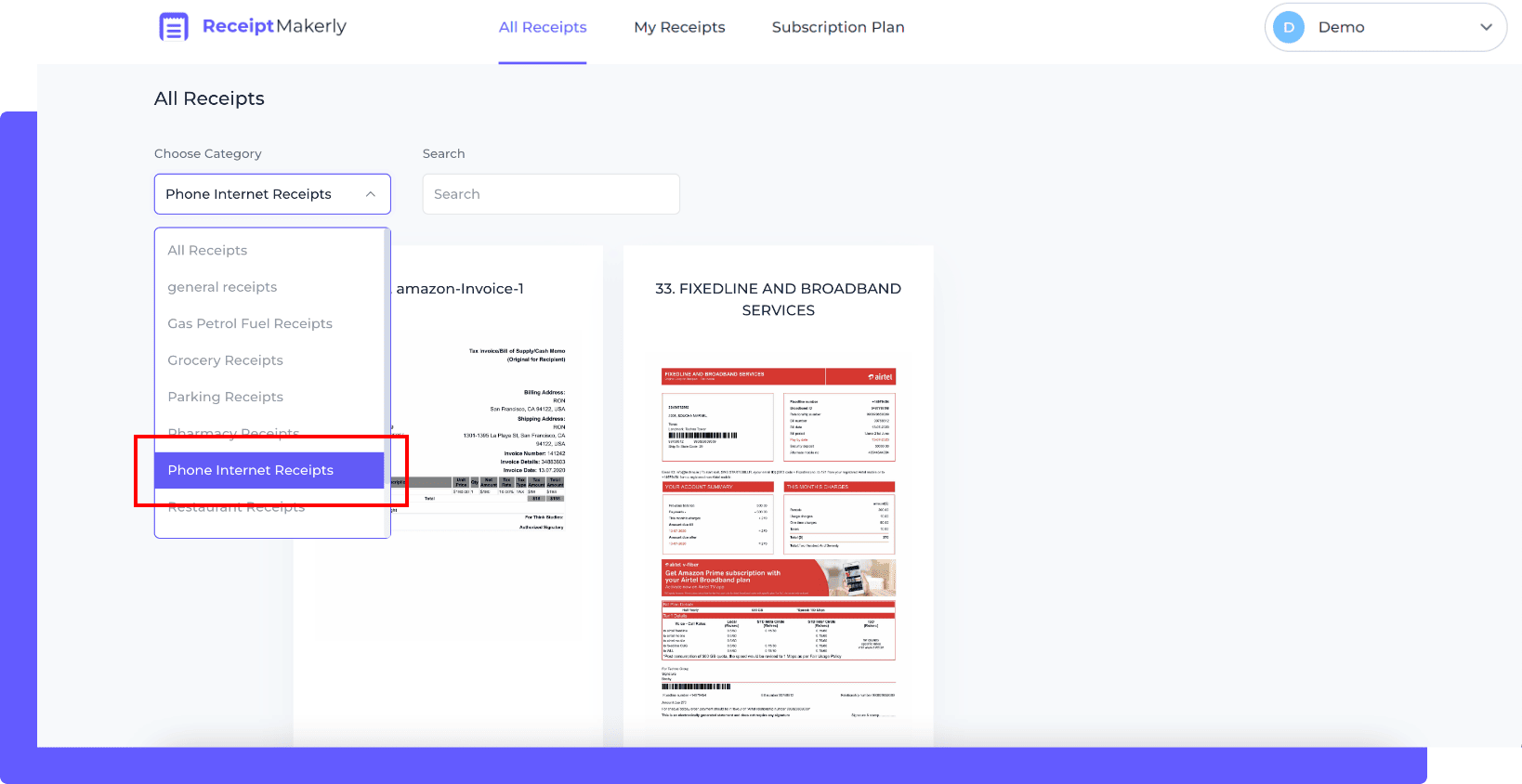 Step 2: Select the template which seems the most suitable to you.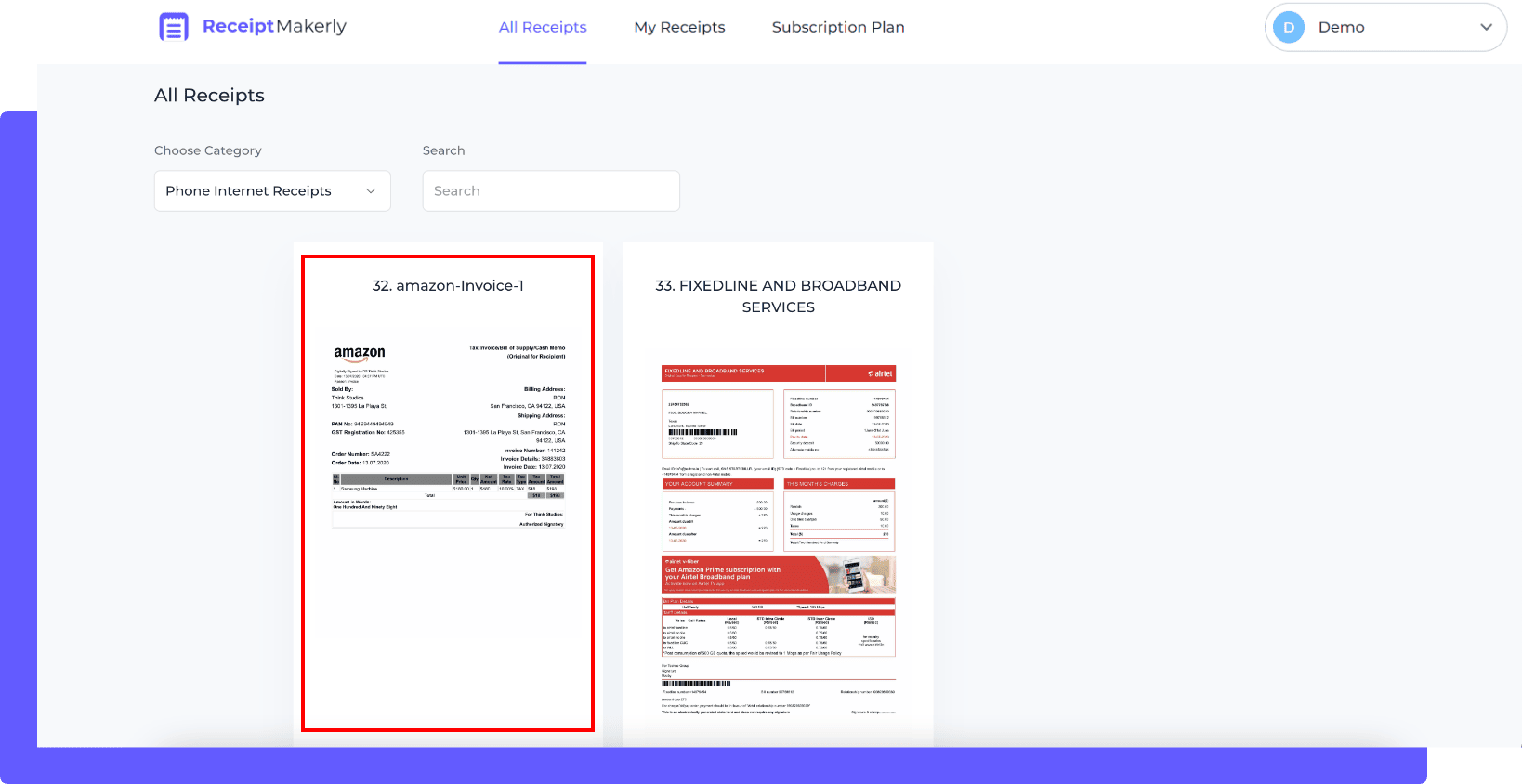 Step 3: Enter the details of your receipt and hit the 'Generate Receipt' button at the bottom. Your invoice will appear on the right side, and you can instantly download it for use.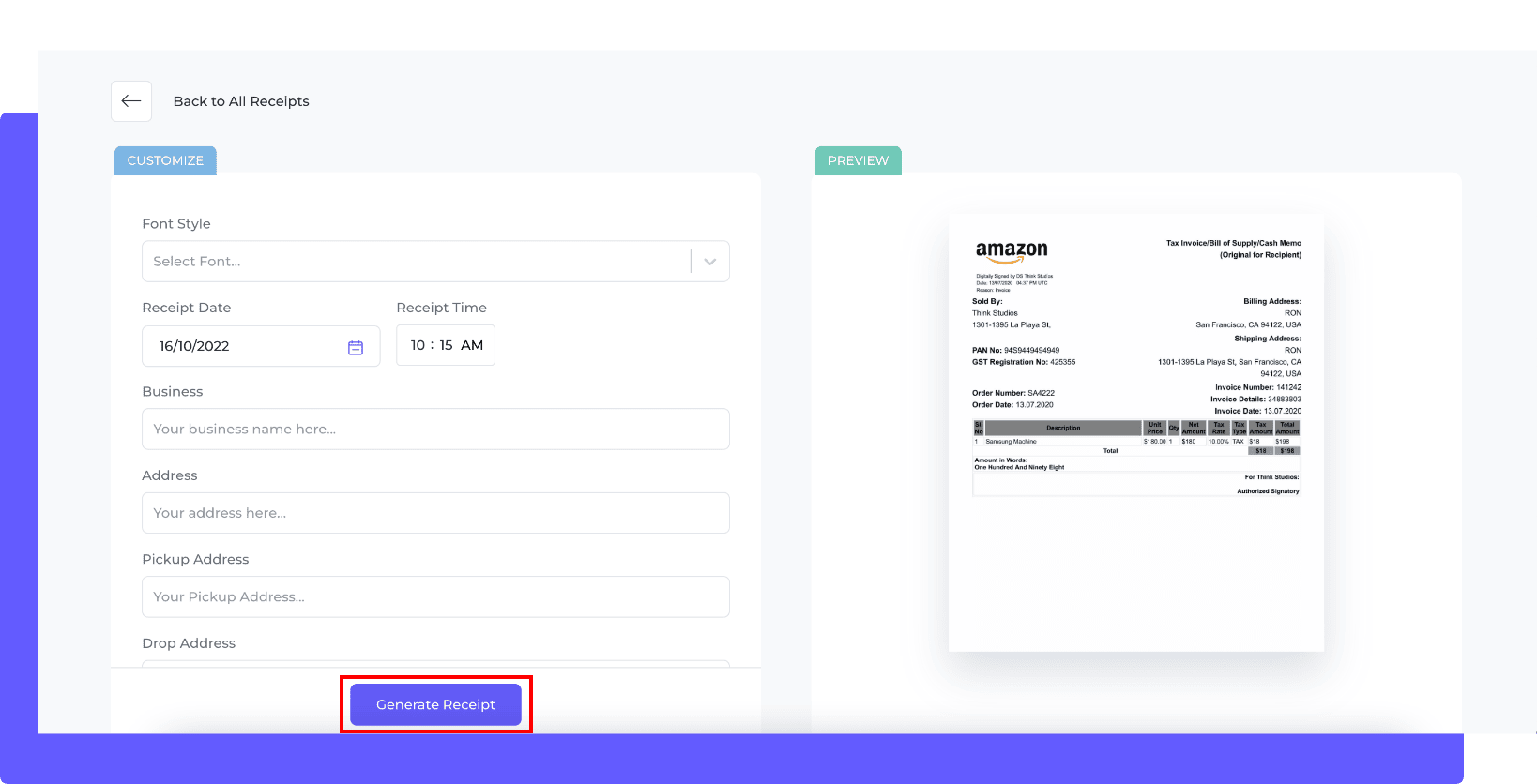 About Receiptmakerly
If you are looking for an online bill or receipt generator, Receiptmakerly is here to help. All it takes are three simple steps, and you will have a professional receipt within seconds. You can now impress your customers with these classy receipts and add your logo. Besides internet and phone bills, we can also show you How to Generate a Lyft Style Receipt or An OLA style Taxi Receipt.
Login to our home page and enjoy the Receiptmakerly services today. Our subscription plans are weekly, monthly, and yearly. We value your feedback and aim at 100% customer satisfaction. If you are unhappy with our services, we'll give you a full refund with no questions asked. Join us today!