How to Generate Taxi Receipt with Templates
Are you a taxi business owner looking for an easy and cost-effective solution to create receipts for your business? You might be a taxi cab passenger who has lost his taxi receipt and now looking for a replica of the same? No matter what your purpose is, if you want to create the best taxi receipt in a limited budget, you can use Receiptmakerly taxi receipt generator.
Your taxi business can succeed only if it has a streamlined billing and invoicing process. Using the Receiptmakerly receipt maker tool, you can achieve highly professional taxi receipts that include all the essential details.
Receiptmakerly is an online taxi bill generator that allows users to create all kinds of taxi receipts using pre-defined templates quickly. This tool is handy for established and new businesses. It is a perfect tool for those looking for reliable and trusted receipt-generating services at budgeted norms. With the help of Receiptmakerly, you can create well-formatted receipts for your taxi business. If you want the best online tool for creating flawless taxi receipts, Receiptmakerly is here to serve you.
Use Receiptmakerly - A Well-formatted and Professional Online Taxi Receipt Generator
It is not easy to create a professional receipt for a taxi business. You face competition outside, so you must offer your customers better receipts. With Receiptmakerly, creating high-quality cab receipts is easy. This professional-grade online receipt-generating software comes with a user-friendly interface, making it easy to create premium invoices.
Receiptmakerly comes with a wide range of advanced features and numerous pre-designed templates, which makes it very convenient to create receipts that look professional & precisely like the ones from large companies like Uber, Ola, Lyft, etc.
From adding your taxi business logo to minimum fare charges, essential rules, payment guidelines, and more, you can enter everything concisely in bills created using Receiptmakerly. We can also help you select an appropriate template and save the receipt to serve your customers efficiently. So, if you are searching for a streamlined invoicing and billing process for your taxi business, Receiptmakerly has to be your top priority.
Online Taxi Receipts Templates:
Take a look at some of our Taxi Receipt Templates below.
Lyft Style Receipts: Adding that extra profile picture of the driver gives your customers a sense of security and trust. You can also replace the 'Lyft' logo with that of your own and generate a premium bill for your customers. Click here to read more about How To Generate Lyft Style Receipts.
Uber Style Receipts: Uber has successfully replaced the term 'cab.' People no longer say 'Let's book a cab', but rather 'Let's book an Uber.' The logo itself creates a sense of trust between the company and the customer. You can place your logo on a replica of the Uber Bill and give your customers the same level of security and trust. Click here to know more about How To Generate Uber Style Receipts.
The OLA Style Receipt: OLA has taken over the Indian cab market by storm and is a genuine solution to transport problems. The bills are unique to the Indian market and posses not only the details of the driver and the billing amount, but also the map to show if the route taken was right. You can easily generate a map-styled Invoice like the one below by simple entering the pick-up and drop-off locations. For more details, Click here to know How To Generate An OLA Style Receipt.
Top-Notch Services of Receiptmakerly to create Sample Taxi Receipt
Over the years, Receiptmakerly has been able to win the trust and credibility of its customers. The online software is easy to use and allows creating professional receipts within a budget. Gain a range of prominent benefits by using Receiptmakerly!
Get easy access to premium-quality services. Create professional taxi receipts and win the trust of your customers.
Create taxi receipts that serve as proof that your taxi business is genuine and authentic.
Use receipts generated and saved using Receiptmakerly to track your invoicing process. This way, you can conveniently keep a track record of your business's profitability.
Mention essential rules and guidelines for your taxi business in your receipt. Highlight the necessary conditions and create taxi receipts, which are highly useful and perfect to use.
Send a copy of taxi receipts to your customers using Receiptmakerly. Also, save the copies for future reference and avoid all sorts of chaos.
Let your taxi receipts serve as legal proof that your clients have availed of your services and are now subject to pay the sum mentioned on the taxi receipt.
How to Create Taxi Receipts Using Receiptmakerly?
Creating a receipt is easy as one, two, three.
Step 1: Select the Taxi Receipts Category from the drop box and hit the search button.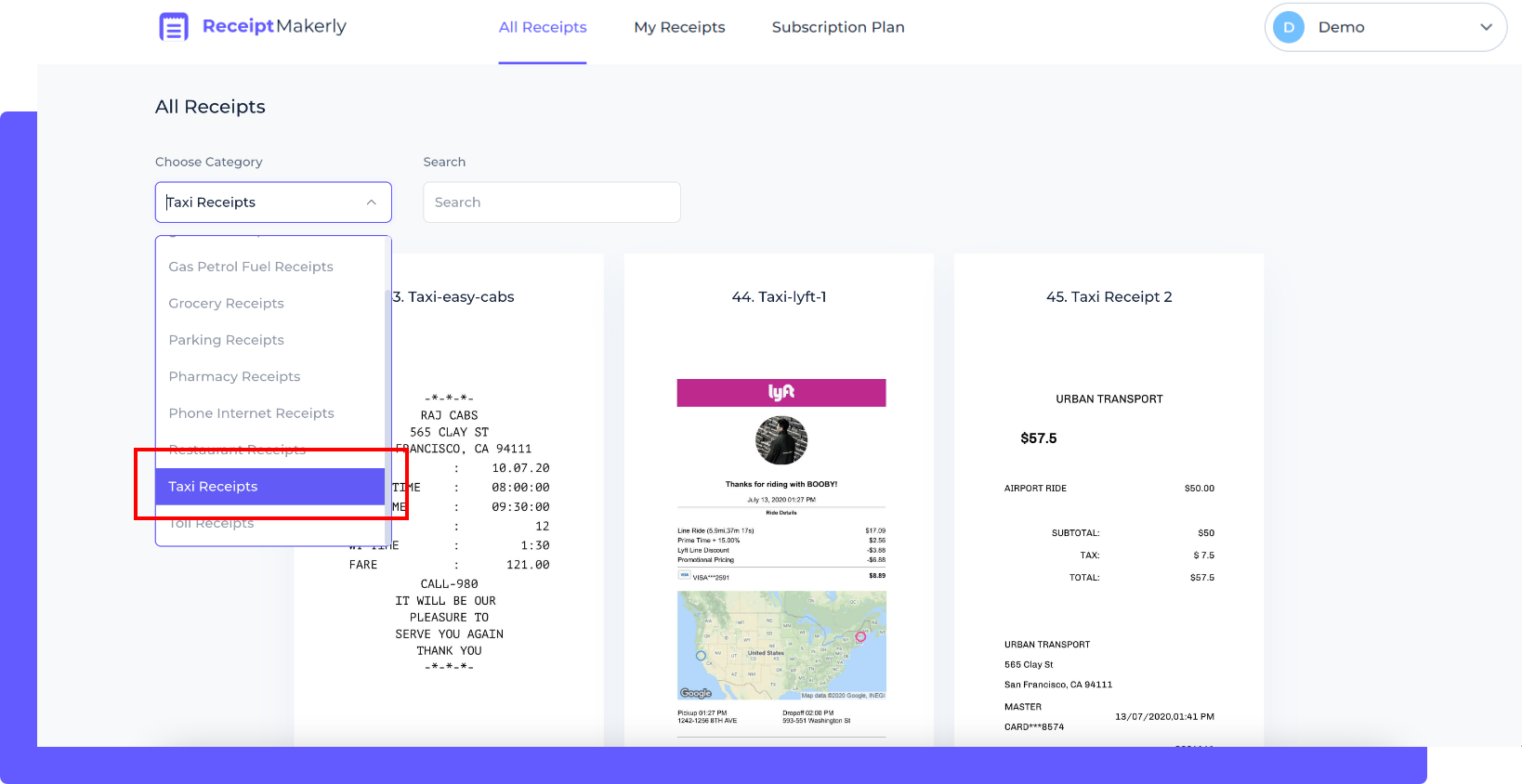 Step 2: Select the template you want to base your receipt on, and hit generate below. In the screen shot, the example is for the UBER receipt.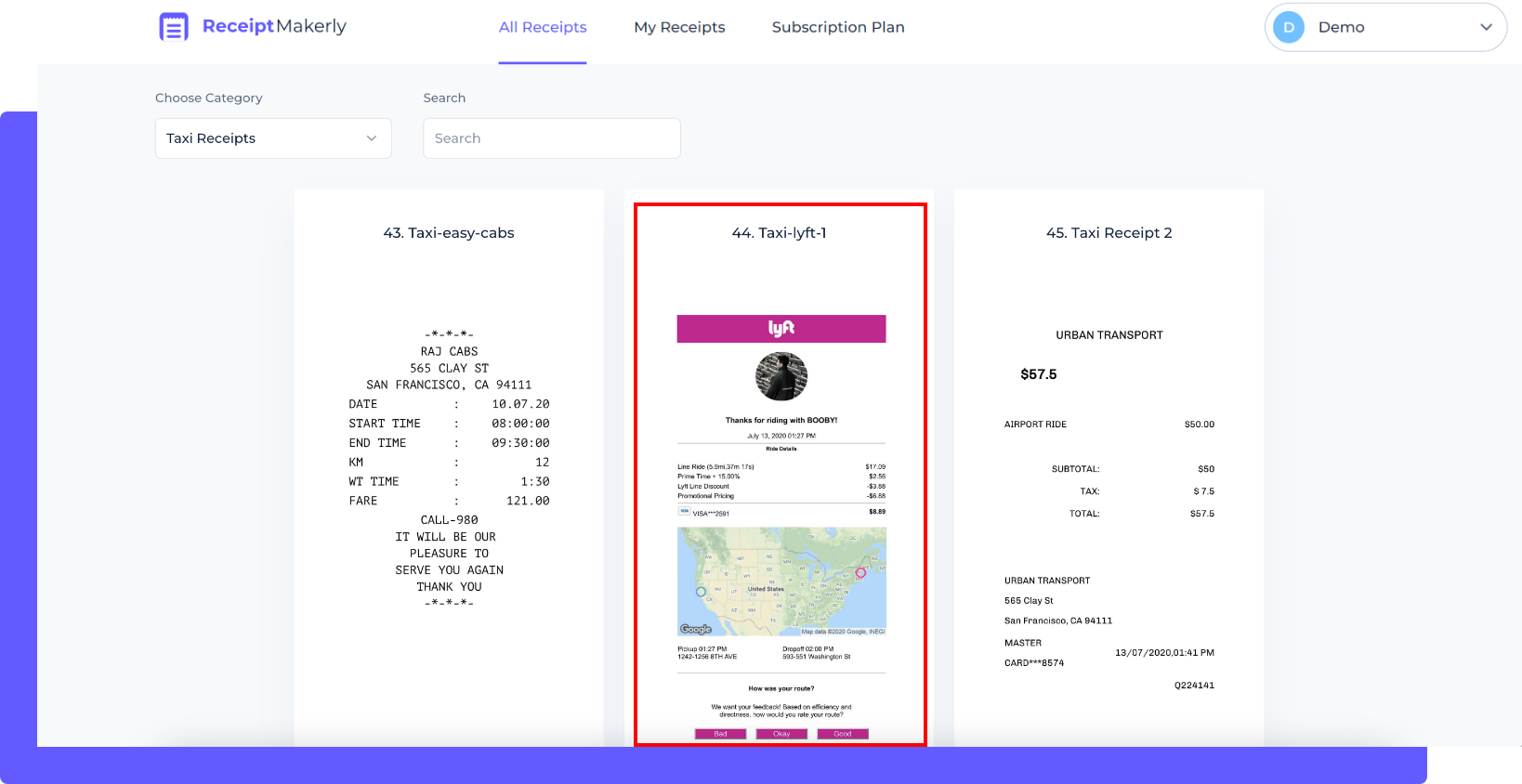 Step 3: Fill in the details and hit generate. Your finished bill will appear on the right side and you can download it when ever needed.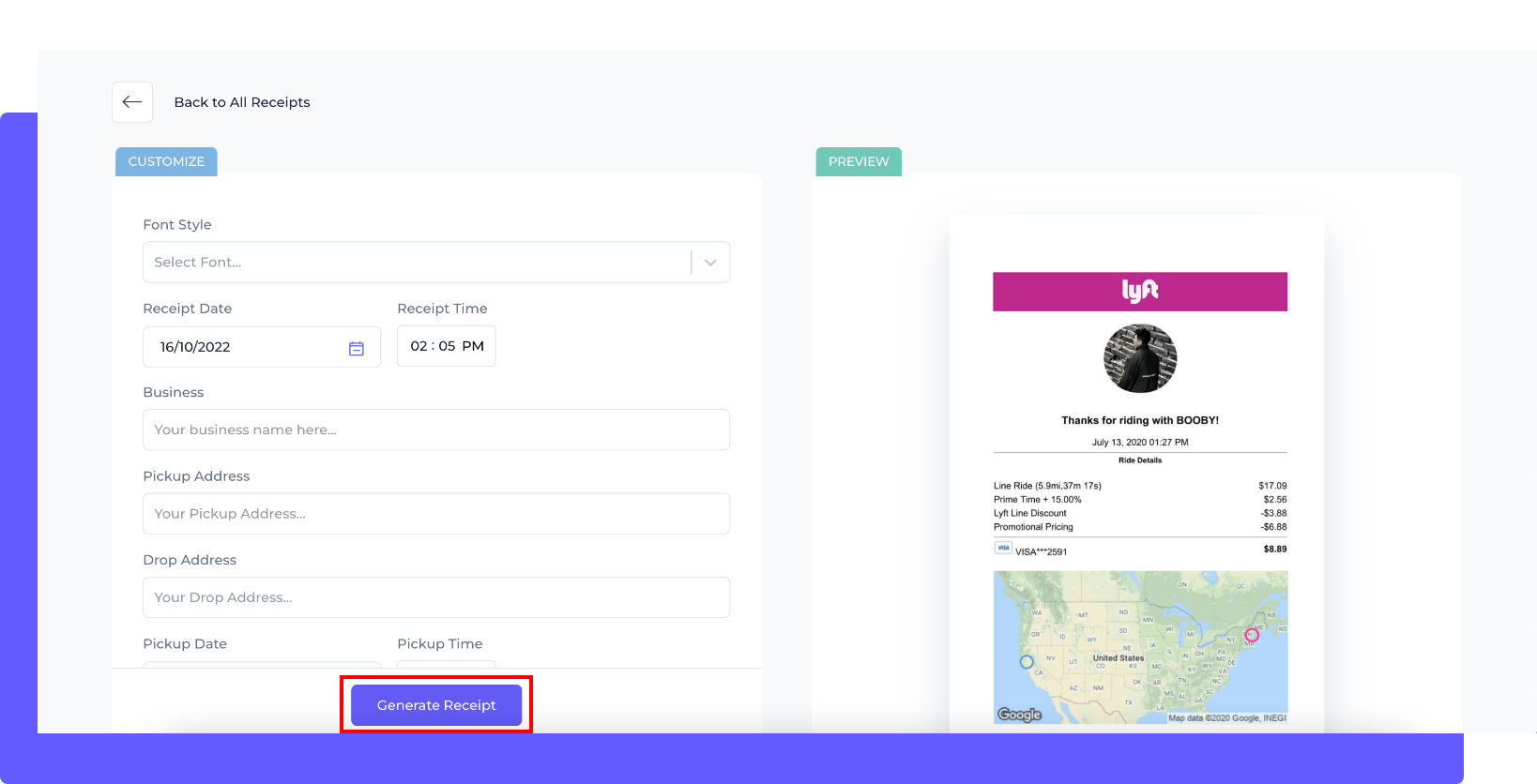 And in three simple steps, your bill is ready. Head over to the home page to know more about how Receiptmakerly can help you better.
Get Started
Create High-Quality and Customize Taxi Receipts with online Taxi Receipt Generator- Receiptmakerly
If you are using Receiptmakerly, you can work without hassles and worries. It is a reliable online receipt and bill generator that offers access to a vast collection of rich templates. Receiptmakerly lets you easily create, store, and share receipts and allows you to serve customers professionally.
We generate any Receipt that your business needs
We don't just have taxi-style receipts on our platform. It's much bigger than that. Receiptmakerly is the biggest online bill, invoice,and receipt generating platform that lets you be in charge. You can customize templates for hotels, tolls, shopping, pharmacy styles, phone and internet receipts, parking receipts, and so much more!
Using the online tool, you can generate bills similar to online giants such as Amazon or even shopping stores like Walmart. Pharmacies can use the Walgreens style and create a receipt that looks professional, any time, anywhere. Receiptmakerly also lets you store the bill designed for later use. Click here to know how you can generate a bill for Auto-Repaircompanies.
So what do you have to lose? Try it today! Head to Receiptmakerly and choose a subscription plan that suits your requirements. We will be happy to assist you every step of the way, and if you are not satisfied with our services, we will refund your money with no questions asked.