Auto Repair Receipt Templates and Receipt Maker
The number of vehicles out of the road are increasing day by day. This has also led to several auto-repair shops opening up in every street. Auto-repair shops always try to compete with each other on the business front. And for auto-repair companies to run successfully, every part of the business must be flawless. This includes the billing section, where Receiptmakerly thrives. The online tool can help you improve, stabilize, and organize all your billing needs into one platform.
Why Would An Auto-Repair Store Need Receiptmakerly?
For starters, just like any other store, an auto-repair store uses parts on different vehicles. Therefore, customers always want a detailed description of the products they purchase, and details of the money spent. Additionally, it acts as a contract for the purchase and helps when a replacement or further service is needed. Furthermore, this creates a sense of trust in the customer's mind and improves your brand value depending on how you personalize your receipt.
Still not convinced? Here's some vital information about Receiptmakerly.
Why is Receiptmakerly the Best Auto Repair Receipt Generator for Auto-Repair Services?
Compare yourself to a bigger, more prominent auto-servicing brand. Take Big Leroy's Auto-Parts, for instance. Their receipts carry a logo and details about how they can be contacted for any further assistance. But a company as big as Leroy's has a team to ensure its accounting is ready during an audit. Receiptmakerly is not just your receipt generator. It's your accounting team. By using the online tool, you can easily store all the receipts you make in one single platform and recover them whenever needed. It's easy to use and fast as well. Although not recommended by us, some car drivers create fake auto repair receipts to get reimbursed from their owners.
Decoding the Auto-Repair Receipt
We've taken the time to find all the details your bill needs to be perfect for your business. From the amount your customer has to pay to the more minor details such as the tax, our samples can always help. Moreover, all you need to do is enter the billing details, and voila, you have a bill in seconds. As a constant, we allow you to place your logo and company address on the bill. You can also throw in a personal message as a line to your customers. Finally, you can contact Receiptmakerly for assistance on how to use the platform better. Read on to know more about our Auto-Repair Receipt samples.
Fillable Auto-Repair Receipt Templates:
Detailed Bills: Many businesses require comprehensive bills that product description of the services and products sold. These bills are much longer, and customers who make large purchases often request for this type of itemized bill. One of the main benefits of using this bill for a customer is that there is zero chance for any confusion related to the purchase. In the event of a replacement or when more service is needed, the bill acts as proof of purchase.
Simple Receipts: If you own a smaller business and need to dish out receipts that state the basics – the work done and the payment, you can use one of these. It bears the name of your company, the customer, taxes, and other necessary information. Here's are some templates you can use.
General Samples and Branded Replicas: Often enough, companies like to base their billing designs off more prominent brands. By simply changing the logo, you can have your own, customized, receipt that can impress your customers. The main reason people choose general receipts or receipts from reputed companies is that the bills have all the necessary criteria ready.
How to Generate Auto Repair Receipts Using Receiptmakerly
Using the Receiptmakerly receipt generator, you can create bills in seconds. The process is simple and requires no training at all. Follow the guidelines below to understand how you can make your receipts instantly.
Step 1: Firstly, select the receipt style you are looking for from the dropdown and then click on the search button. You can choose the general category for instant receipts that can be used in any business.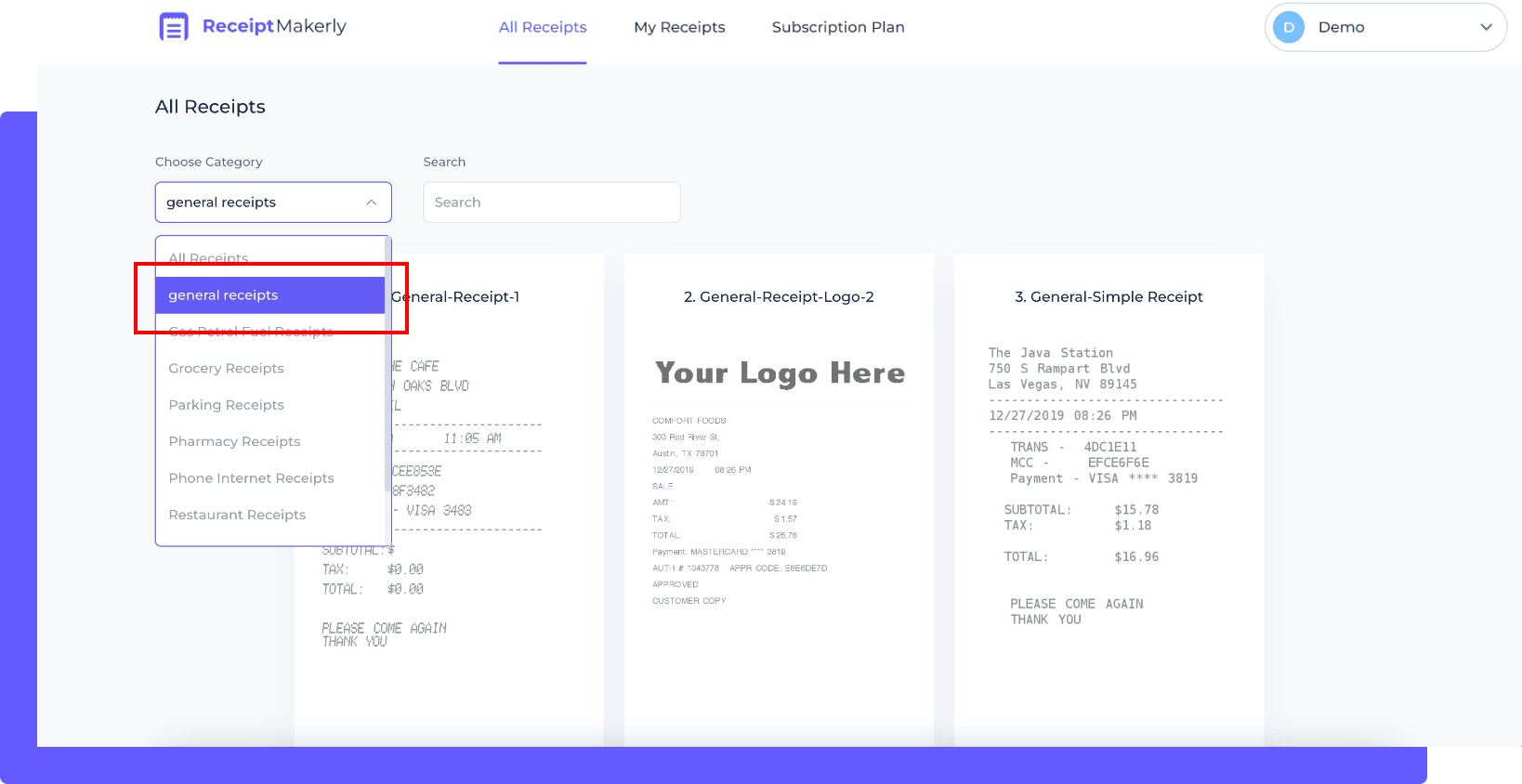 Step 2: Second, look for the receipt sample you want to base your design on, and just click on the most suitable one.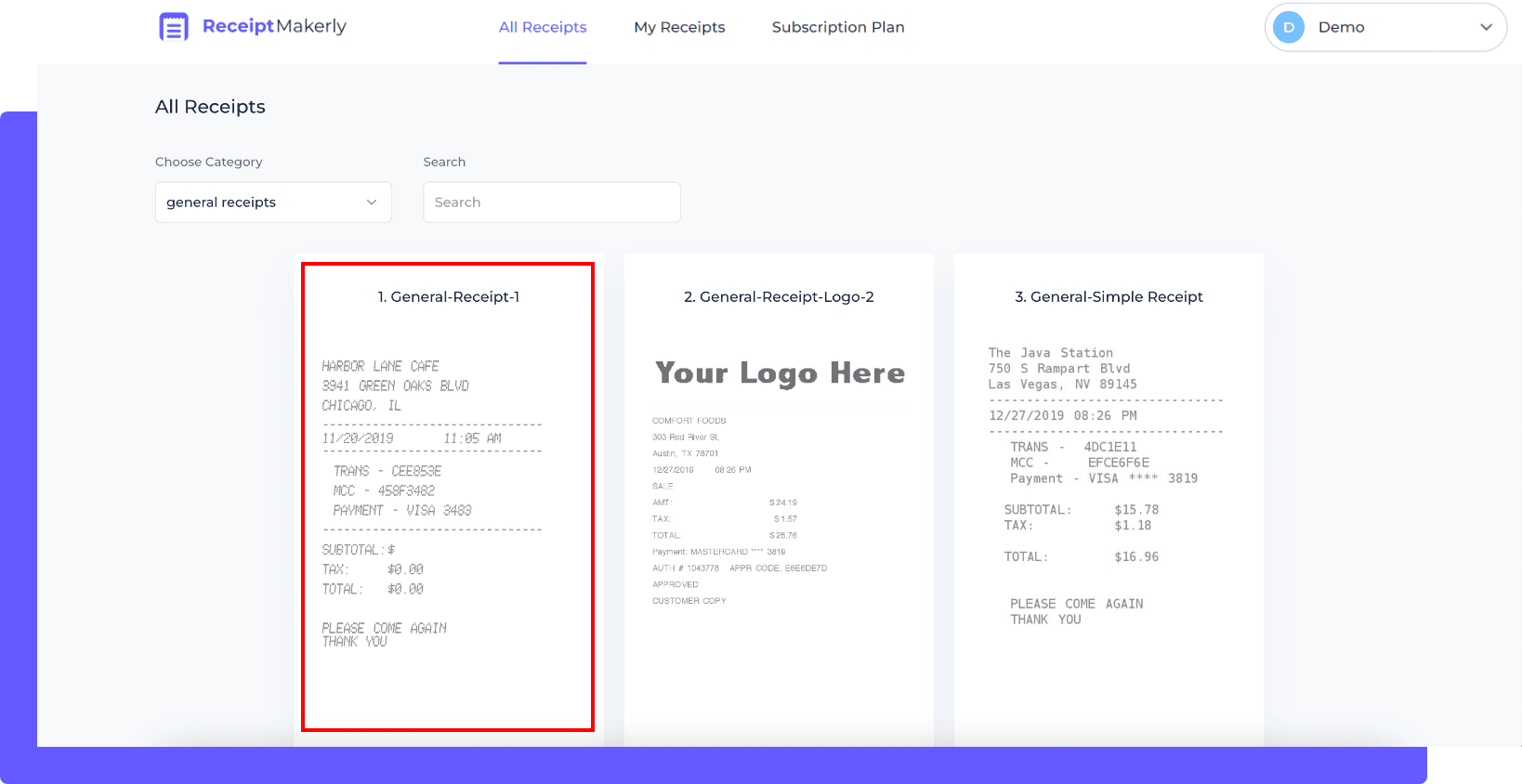 Step 3: Lastly, fill in the details of your receipt, such as the purchase information, price, tax, etc. Click on Generate. Your receipt will appear on the right side, and you can download it as an auto repair receipt pdf for further use.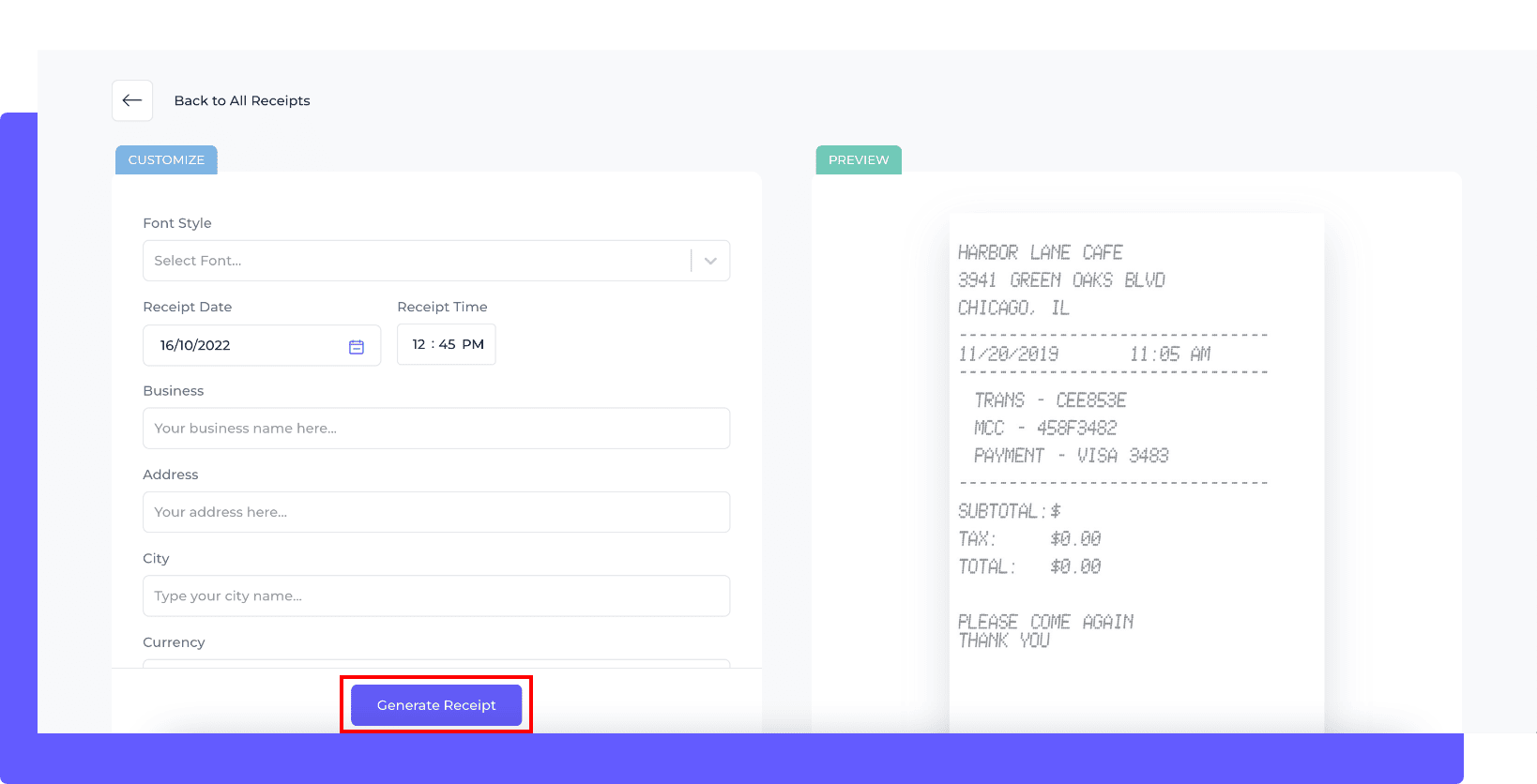 And in three simple steps, your bill is ready. Head over to the home page to know more about how Receiptmakerly can help you better.
Get Started
About Receiptmakerly
Receiptmakerly is an online receipt, bill or invoice generator. Our mission is to create a streamlined platform where businesses can create premium receipts for their customers and also use our cloud space as a storage bank for all your bills. We understand how hard it is for a startup to get all sectors of their business right. And we want to make it easy by taking care of the invoicing.
We aren't limited to Auto-repair shops. At Receiptmakerly, we help all kinds of businesses. For example, we can help you generate a Receipt for a Taxi business or even help you make Uber Style Receipts, OLA style receipts, and Lyft Taxi style receipts. If you are into retail, we can help you make Walmart-styled or Amazon-like receipts. Our subscriptions start at a low price, and we give you one a 7-day duration. If you're not satisfied, we will refund your money with no questions asked. Our home page should give you all the details you need to know about how Receiptmakerly can help you better. At any point in time while using our service, your feedback will always be valued, and we will help you every step of the way.
TRY US TODAY!
Disclaimer: Receiptmakerly.com is a web-based application to help small businesses easily create professional-looking receipts. You understand that we offer to bill and receipt generator software tool for sale through our Website. Receiptmakerly is not to be used as a fake receipt maker. You acknowledge that we are not creating bills or receipts, nor do we offer any advice on generating fake auto repair receipts. You acknowledge that we do not endorse any misuse of our software. All product and company names are trademarks or registered trademarks of their respective holders. Use of them does not imply any affiliation with or endorsement by them.