How to Generate Walgreens Style Receipts
Generating Walgreens style receipt is now easy with Receiptmakerly. Learn the easy process of generating Walgreens style with customizable templates. If you are looking to generate receipts for your pharmacy, you may use a receipt template like Walgreens.
4.9 | Made with ♥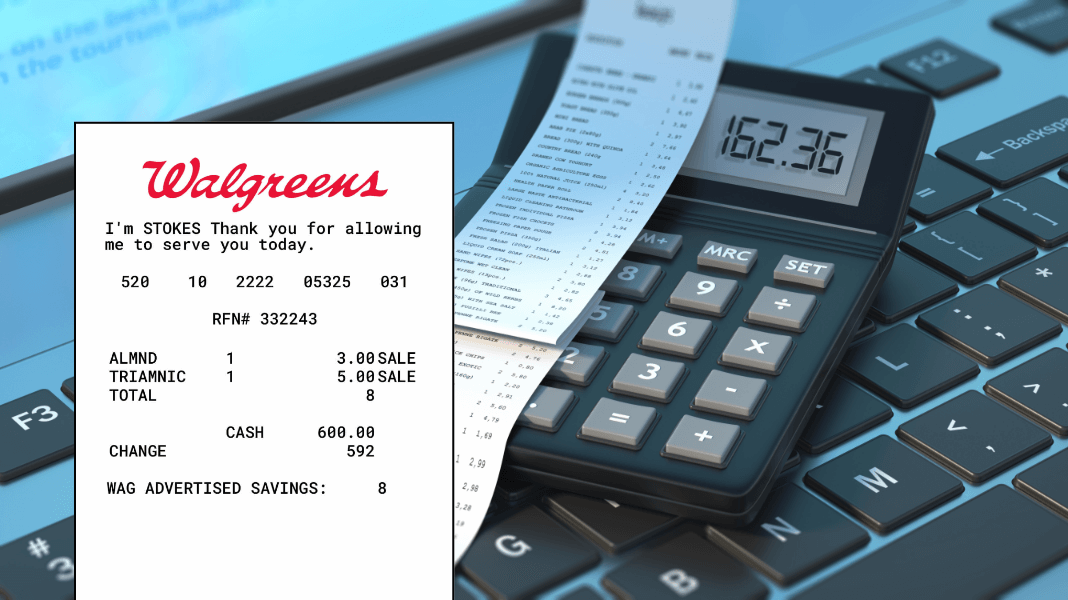 When dealing with medical supplies, it is crucial to track every sale. Receipts are an easy way to do it, and no one does it better than Receiptmakerly. To add, we have a receipt template that is the same as the pharma giant, Walgreens. You can customize the template as per your needs, and add your logo, item details, and tax to create the perfect receipts.
About Walgreens
Being the second-largest Pharmacy Chain in the USA, Walgreens has specialized in health products, filling prescriptions, and providing advice regarding pharmaceutical products. Additionally, the company has over 9000 stores in all 50 states and provides products ranging from vitamins to skin care. Even though it is in second place, the brand has replaced the term 'pharmacy', the same way Uber has replaced 'taxi'.
Decoding Walgreens Receipts
To create the perfect bill for your pharmacy, we have a sample of the Walgreens receipt with all the necessary details for you and your customers. Furthermore, the bill serves as a file for products sold and as a record of financial transactions.
Details such as the business name, the name of your customer, the amount to be paid, and the items being sold, can be added to your bill.
Additionally, you can also alter the date of the receipt and the reference number to track invoices.
Receiptmakerly – Walgreens Receipt Generator
It's fast, it's simple, and you can use it at any time, anywhere you go. The Receiptmakerly online receipt generator can help you even if you lose a receipt and need to generate a new one. By using this feature you can generate a bill to recover medical expenses. Besides this, it is also an online storage platform for all your previous receipts. You can access them easily for audits or accounts.
Get Started
Why Receiptmakerly Is an Excellent Platform to Generate Walgreens Style Receipts?
Here's why you need to start using Receiptmakerly:
Saves Time: Firstly, it lets you generate Invoices in seconds!
Easy to Use: Secondly, all you have to do is fill in the details and hit generate.
Invoice Database: Moreover, is lets you access previously generated bills anytime, anywhere.
Your Logo, Your Bill: Also, Receiptmakerly lets you Customize and personalize your bills with our receipt generator tool to impress your customers.
The Walgreens Effect: Lastly, add that style and class to your billing, the same way Wallgreens add a professional impact with their receipts to customers.
How to Generate Walgreens Style Receipts?
You can create Walgreens style receipts using Receiptmakerly in just these simple steps:
First, select the Pharmacy Receipts Category from the dropdown menu, as shown below:

Find the Walgreens Style Receipt Template and click on it.

Enter the Receipt Details required. There is a Sample Bill on the right to help you understand each box.

Add your logo and the products you want to sell. Once done, click on Generate and Save.

The final step to your customized Walgreens style Bill is to download the receipt. Click on the Download button to get your receipt. If you need to re-customize the receipt you can do that.
Conclusion
Walgreens-style receipts are professional and can be used by pharmacy stores to look professional. Receiptmakerly.com also has a wide range of other templates be it simple generic receipt templates, sales receipts, Lyft receipts or more specific use cases like creating taxi receipts, generating amazon style receipt, and grocery store receipts. You can also use Receiptmakerly as a restaurant receipt maker , Gas fuel petrol receipts or Walmart type receipt generator. Contact us for any assistance to generate the perfect bill for your business.
TRY US TODAY!
Disclaimer: Receiptmakerly.com is a web-based application to help small businesses create professional-looking receipts easily. You understand that we offer to bill and receipt generator software tools for sale through our Website. Receiptmakerly is not be used as a fake receipt generator. You acknowledge that we are not creating bills or receipts nor do we offer any advice on generating fake Walgreens receipts. You acknowledge that we do not endorse any misuse of our software. All product and company names are trademarks or registered trademarks of their respective holders. Use of them does not imply any affiliation with or endorsement by them.