Generate Restaurant Receipts with Customizable Templates
Do you run a restaurant business? Have you just started a restaurant and want to streamline the invoicing process and generate receipts with customized restaurant receipt templates? Or, do you really know the difference between a receipt and an invoice in the first place?
With your restaurant's increasing crowd and population, the billing and invoicing process can become complex. Hence, you should use an efficient restaurant receipt generator right from the beginning.
Your restaurant business can flourish only if it has a streamlined invoicing and billing process. The best way to achieve this is by generating restaurant bills and templates using a professional bill generator. This is what brings Receiptmakerly into the role!
Receiptmakerly is an online bills and receipts generator tool that lets you create different bills professionally with the help of customized restaurant receipt templates. So, whether you are an established or new business, Receiptmakerly is a perfect restaurant bill generator for you. Using our online bill generator tool, you can easily create well-structured and professional receipts for your restaurant business. So, if you are looking for a solution that precisely caters to your restaurant business needs, then you're on the right platform.
Generate Professional and Well-Structured Restaurant Receipts in Just a Few Clicks
Creating professional restaurant receipts can be challenging, especially when you don't have access to the correct tool. But if you use Receiptmakerly- the best restaurant bill generator, you will never experience any difficulty or challenge. It is because Receiptmakerly is a professional-grade tool equipped with advanced functionalities that let you create the best restaurant receipts in just a few clicks.
Receiptmakerly is an excellent platform for generating varieties of different receipts. This restaurant receipt maker offers users numerous pre-generated templates, all of which are professional-grade and allow easy customization. Users can select any bill template per their preferences and generate custom receipts by entering important information about their restaurant business. For example, you can store essential details like the restaurant's name, logo, and billing details and easily create a custom restaurant receipt.
Receiptmakerly is a premium restaurant receipt maker that lets you create premium-quality professional receipts and send the created invoices to your customers using email in just a fraction of a second. This way, you can stay in touch with your customers highly professionally, build your brand image, and win over their trust.
You can even mention important regulations and payment methodologies in your restaurant receipt. For example, you might accept payment through different modes or charge a certain amount of tax subject to a specific law; all such details can be mentioned in the restaurant receipt.
Using a professional restaurant receipt and mentioning important details about your payment schedule streamlines the invoicing process.
How to Generate Restaurant Receipts with Customizable Templates Using Receiptmakerly
Making Receipts for a Restaurant has never been this much easier. After logging in to the Receiptmakerly platform, here's what you need to do:
Step 1: To start, find the Restaurant Receipt from the Drop-down.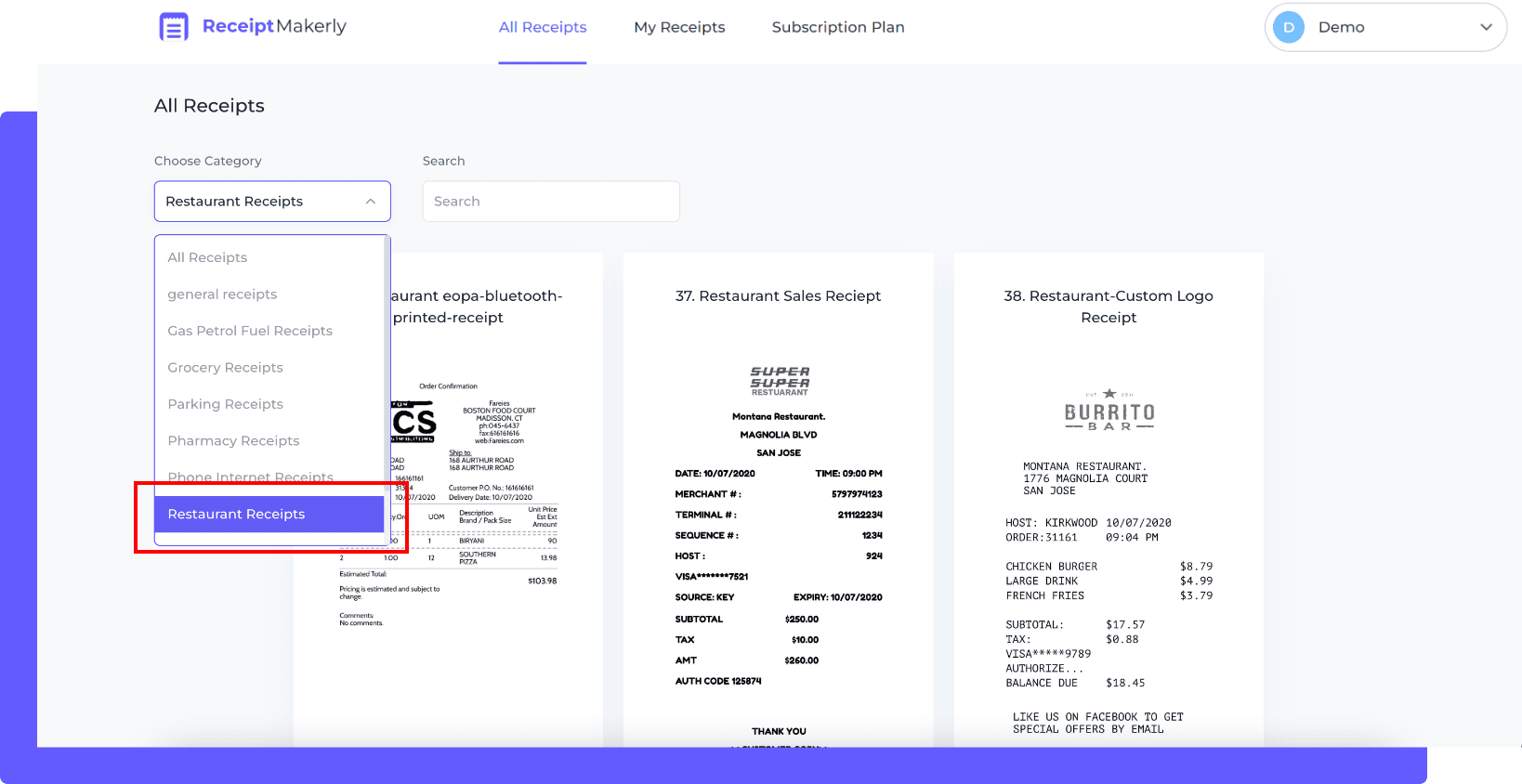 Step 2: Select any of the Restaurant Receipts templates. In this case we will use Restaurant-custom Logo receipt.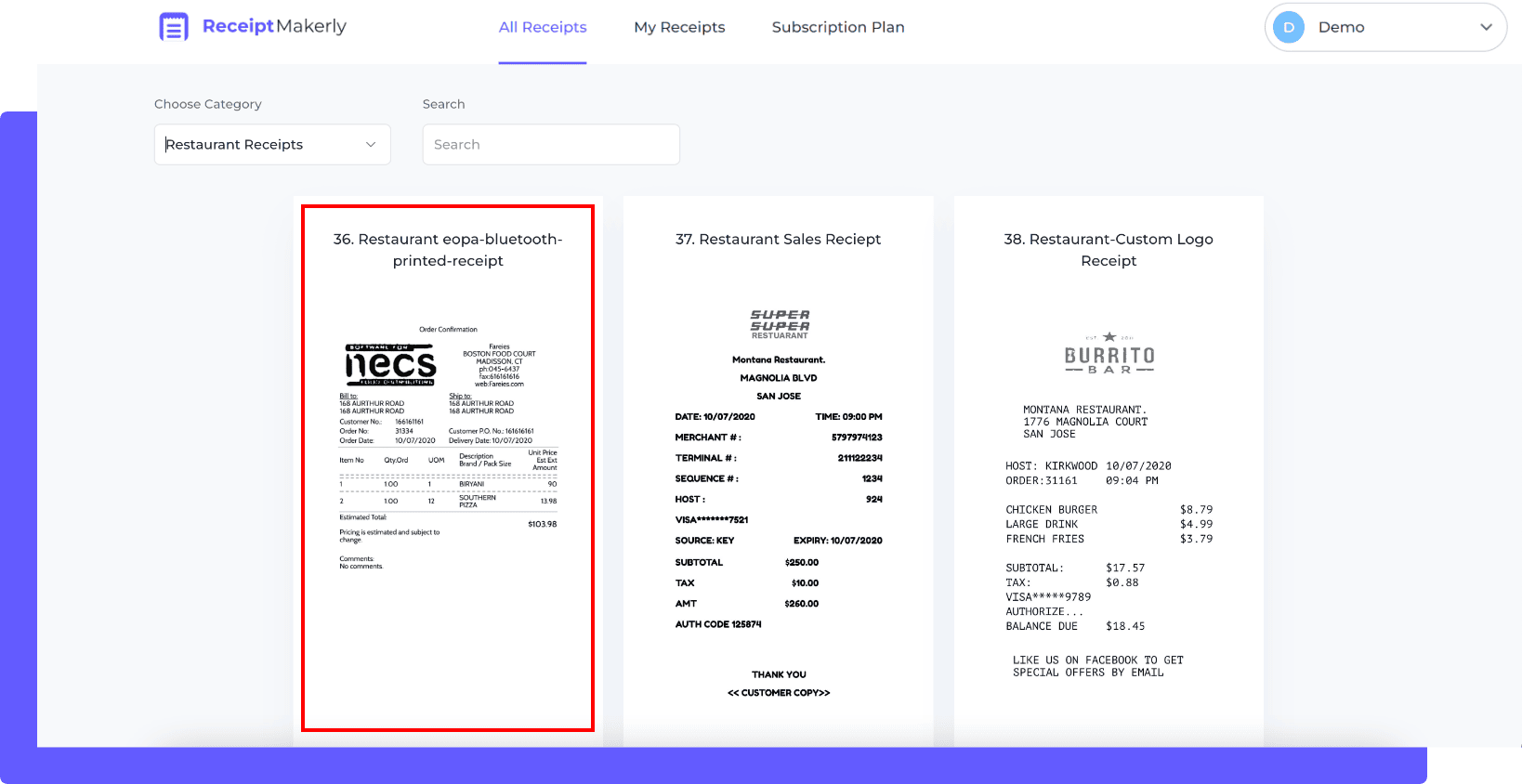 Step 3: Now customize your desired restaurant receipt template with the required information and click on "Generate Receipt"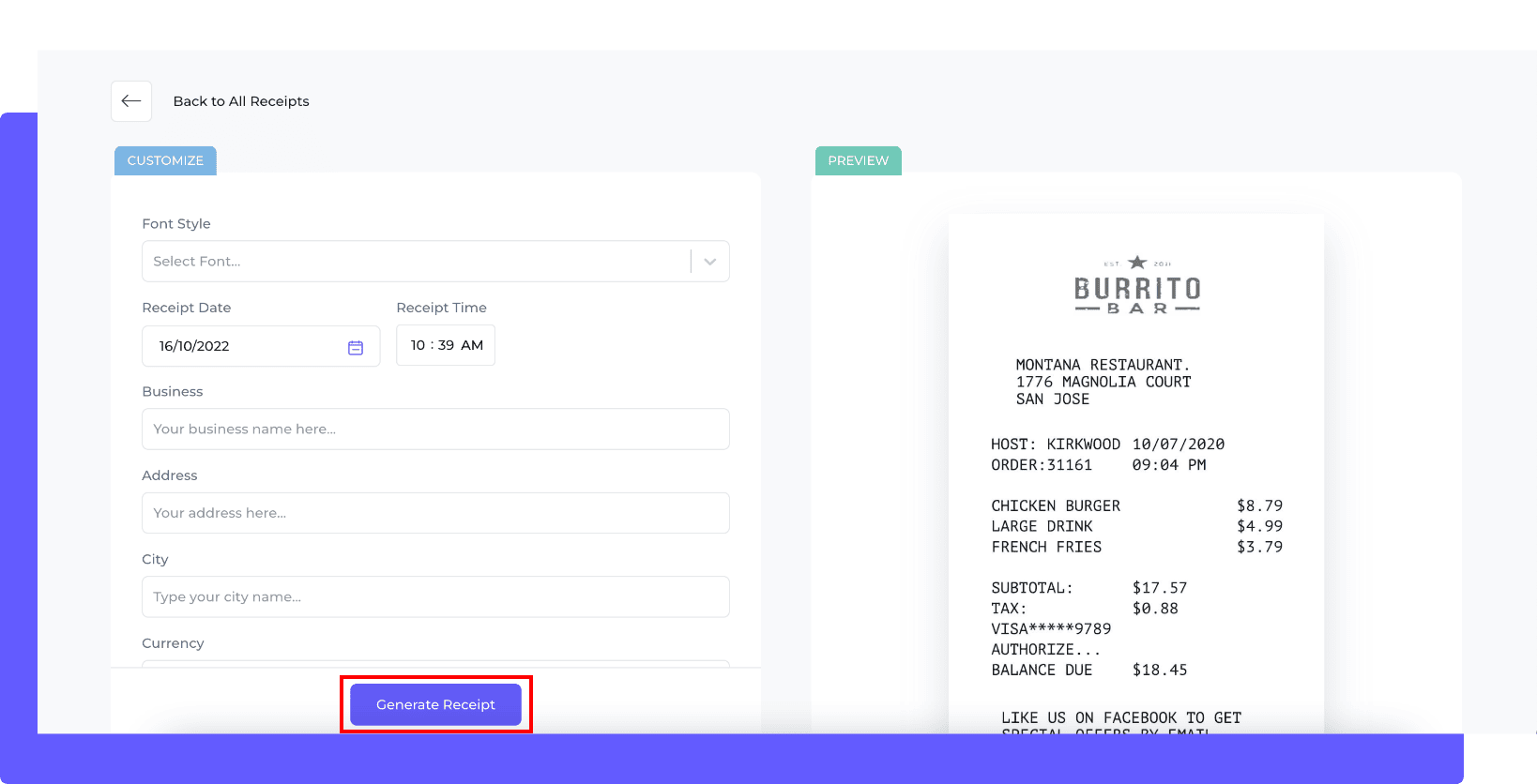 Step 4: Your receipt is now ready. Click on the "Download" button to get your receipt.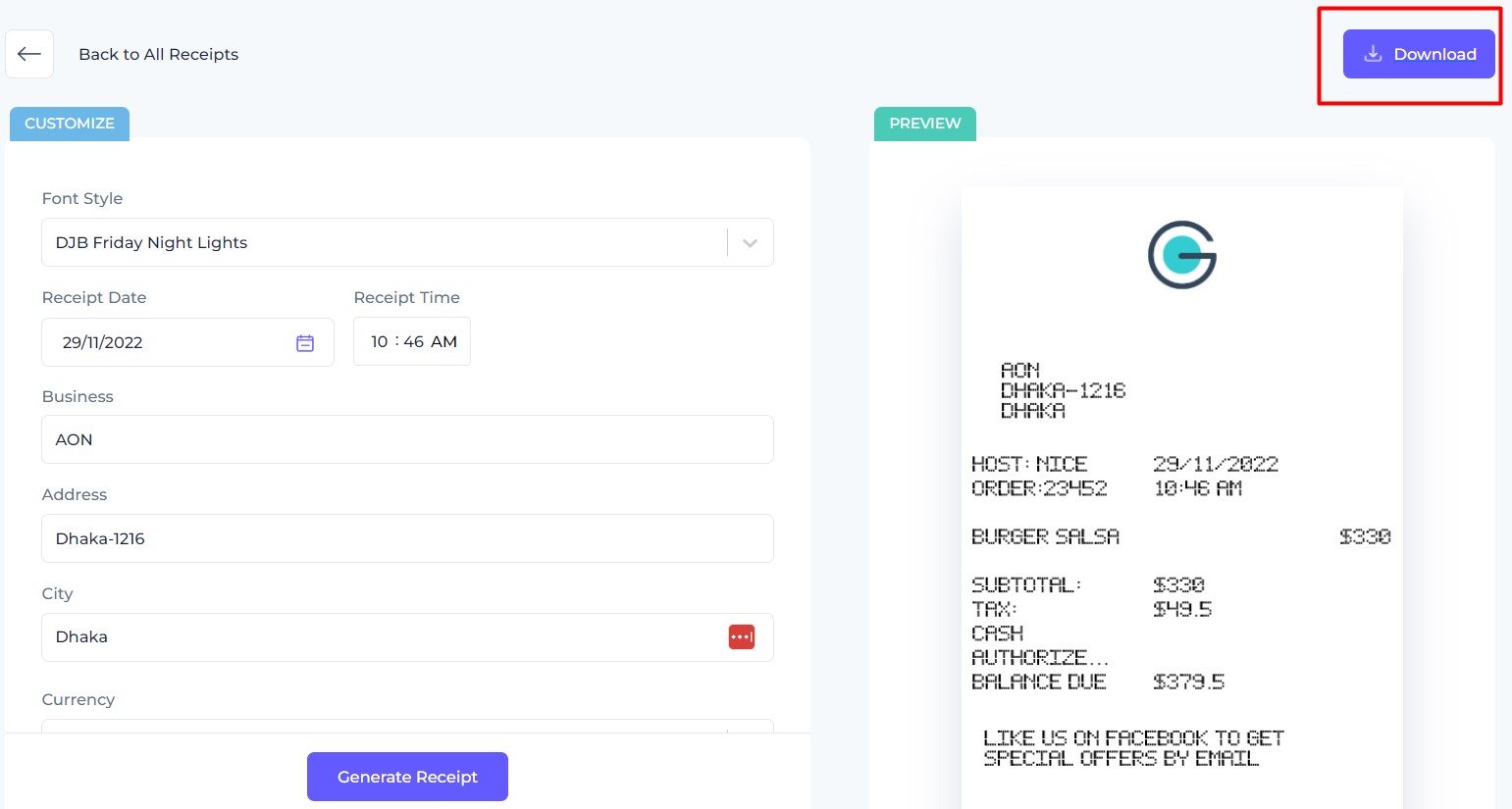 Learn Why Receiptmakerly Is the Best Restaurant Bill Generator
At Receiptmakerly, we offer professional templates and an easy-to-create process to ensure our users are served in the most eminent manner. We are the best in the industry because we offer users a plethora of advantages.
We are a premium-quality service provider that lets you create professional receipts and gain the trust of your customers.
Your restaurant receipt serves as proof that the customer has made the mentioned payment or amount.
The restaurant receipt is a great way to track the success and profitability of your restaurant business. You can even know which dishes from your menu are most demanded and which are least. As a result, you can always enhance your offerings.
You can keep your customers aware of specific conditions by mentioning important payment rules in your restaurant receipt. This is highly useful and an ideal way to avoid any chaos. The same is true if you own a hotel business. Generate hotel receipt and avoid any such happenings.
Maintain a track of all payments received using Receiptmakerly. It is because you can always store the bills created using our software.
The restaurant receipt is legal proof that the customer has used your service and offerings and is bound to pay the mentioned sum.
Use Receiptmakerly- The best Restaurant Receipt Maker that offers the Best Restaurant Receipt Templates
Receiptmakerly brings you the advantage to avail access to an extensive collection of professional templates. Even the process of creating, storing, and sharing receipts is simple ranging from phone receipts to parking receipt.
Use our online bills generator tool to create the best restaurant receipts and offer your customers elite services.